These are some of most favorite earrings for the summer, they go so well with the time and the colors are outstanding with whatever you choose to wear on vacation.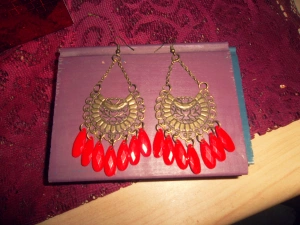 These orange-red dangle earrings I found from a dear woman in a church, these only cost me 2 dollars! I also bought another pair in black for a friend of mine, the design goes well with so many colors but this color stood out the most for summer vacation.
Now these shades of blue earrings I favor the most, primarily because of the mixture of the blues in one place. I have so far used these very little, simply because they need to be worn with a precise attire. Now that summer is approaching I see them worn with long maxi dresses.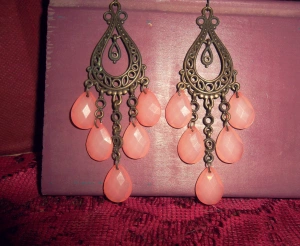 The light peach color earrings above are my Spanish earrings that have been with me for many summers, what I admire most is the falling, they will never get old for me.
The earrings from the left I have recently purchased from Sam Moon, a store I will soon be posting about that has caught my attention for all jewelry needs but more on that later on.
Since I bought them they have worked well for me for both a professional attire and for wearing with summer light clothes. The earrings at the right are ones primarily for summer, especially for that Spanish look. I have found that the best way to show them off is to let them show and not cover them with our hair down.
Most of these earrings I found in the most unexpected places being sold by those who craft them by hand, those are always the most authentic so if you find someone selling some earrings stop and take a look at their craft!