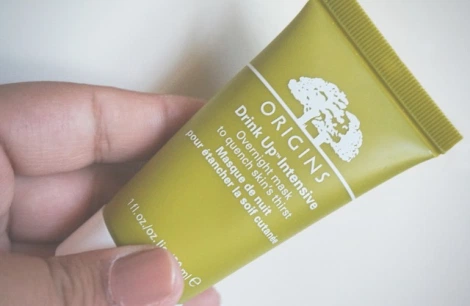 When it comes to skin care, frankly I'll be honest In the past I wouldn't take  proper care of my skin. Honestly I think I was just being lazy not wanting to wash off my makeup at night or I wouldn't take the time to moisturizer my face. About a year ago my face started getting really patchy and dry. I've been trying different combinations of moisturizers and foundations, testing out different combinations so my makeup wouldn't look patchy because of my dry skin. Trust me if you want your makeup to appear more  flawless or smooth, taking care of your skin should Ben your priority. (Drinking water helps too)
Take note that what works for me won't work for you. I started using the Origins Drink Up Intensive night mask and other products that I will mention below that have improved my dry skin.
Guys it's worth investing in products that can help your skin. I was so hesitant in trying high-end brands because of the cost but just a friendly tip: if you want to try a high-end product purchase the trial size for the fraction of the prize and test out the product. Once you test out the product you'll know if it's worth investing in a full size product.
At night I apply the Origins mask and in the morning my face feels hydrated and smooth. I massage some drops of the Josie Maran Argon Oil into my hands to warm up the product, then I press the oil into my skin. After I apply the Mario Badescu moisturizer. Then I continue to apply foundation. I have noticed that this process improved my dry patches on my skin. These are my top favorite products that have worked for my dry skin.
(If you have oily skin, I don't recommend any of these products mentioned above. )
If you suffer from dry skin, let me know what are your favorite products!
P.S make sure to follow me on IG @_amigarza I post there more frequently than the blog. Also today marks 3 years since I created this little blog, here's to more blogging!